The second of my articles on my Ross bloodline.
Up until now my genealogy articles on the Ross clan have been working backwards through the family line. In this one I am going to reverse that order, taking you right back to the very beginning of the clan Ross, then work forward to join up with John Ross, 'the mealer of Cullisse' and his son, Duncan, my five times great grandfather from my previous article.
An old account, quoted by Buchanan of Auchmar, gives a firm Norse origin to the Ross clan. This has well-established roots in the personal claim of the first Earl of Ross, Feacher MacinTagart, that he was O'Beolan or Bjolan. Icelandic, Scottish and Irish sagas speak of King Bjolan, a half Norse king of South Lagore in County Meath, Ireland and the Applecross district of Wester Ross. He was said to be the son of the Helgi Bjolan, a Viking of Norse nobility and a Christian convert – he was the son of Kitell Flatnose Bjornsson, Norse King of Mann and the Isles, who in turn was a son of the King of Norway. Bjolan's mother is said to have been an Applecross princess of direct descent from the Kings of Tara. So, as you can see, the Ross clan has pretty illustrious Norse and Celtic roots. In the late 800s King Bjolan became the lay abbot of Applecross and chief of this district in Scotland; Irish chronicles say his tribal authority extended through Meath too, where he left an Irish line of noble descent. The Monastery and abbey of Applecross was established by St. Maelrubh in 671, who was a descendant of Niall, High King of Ireland.
Viking sources say King Bjolan's wife was Kadlin, (Cadlinar), daughter of the well-known pirate Rollo, the first Duke of Normandy. Among their descendants in Scotland were the inherent Abbot's of Applecross and much of the nobility of Ireland and Iceland. The O'Beolan lay Abbots of Applecross – who already had immense government and church authority over their own districts in Wester Ross – became the Earls of Ross in the mid-1200s. An Earldom was an extension of their authority, giving them control over the lands of all Ross-shire. In addition new lands were granted to them in Wester Ross and the Isles. The O'Beolan abbots continued in Wester Ross and the Hebrides as descendants of the Earls of Ross whilst the actual earl removed to Easter Ross.
The family was originally known to the Highlanders as Clann Grille Aindreas, or 'the sons of Andrew' and the founder of the Clan Ross was Fearchar Mac-an-T-Saigart (Farquhar, the Son of the Priest), abbot of Applecross in Wester Ross, who inherited the abbacy early in the 13th century. Farquhard, was a great warrior, who had rescued King Alexander II of Scotland and his army from attack, with Farquhard's own tribal forces and allies, for which the king knighted him. It is said that Farquhard then accompanied King Alexander II and Queen Margaret to London, with a host of other Scottish nobles, for the coronation of Edward Longshanks, brother to Queen Margaret. At the English king's court was a huge Norman warrior, Dougall Duncansone (who actually sounds far more Scottish than Farquard for some reason). He was said to be a "renowned man of marvellous strength", an expert wrestler who had never been beaten. That was until the Highlander, Sir Farquard, decided to take part in the entertainments and fight the English king's champion. King Alexander II was so proud of this Highland knight's victory that he made him the Earl of Ross.
Before taking on the Norman champion it is said that the devout Farquard promised God that if he overcame the Norman giant he would found an abbey of the first religious men he met after his victory. These men were two canons from Galloway, one of whom was called Malcolm and his companion had 'certain relics of St Ninian with him'. With these holy men the new Earl of Ross founded Faren Abbey, or Fearn as it was later called. Farquhard was buried there and Malcolm was its abbot for 15 years until his own death.
After the first Earl of Ross the line passed directly through Farquhard's line. Hugh, the 5th Earl married a sister of Robert the Bruce, he fell at the Battle of Halidon Hill in 1333. His son, William, died without an heir in 1372 and so the earldom passed through his daughter Euphemia, who was Countess Ross in her life time, the title of earl then passed to her son, Alexander Leslie, who only left a daughter, and the ensuing wrangling for the earldom saw James I of Scotland confiscate it for the crown in the mid-1400s, the earldom eventually fell into disuse in the 1600s.
The earldom may have been forfeited to the King, but he could not take away the, up until then, linked, chieftainship. It was separated from the earldom, and passed to the next in the direct male line, Hugh of Rariches, Laird of Balnagown, which constituted much of the area around Tain, Rosshire. He was the 3rd son of Hugh, the 5th earl, and as clan chief he adopted the name of the county, becoming Hugh Ross of Rariches, the first to hold the Ross surname and the first definitive chief of the clan Ross. He married Margaret Barclay and they had two children, William and Jean.
William became the 2nd chief and laird, he married Christina, the daughter of Lord Livingstone, and Robert II of Scotland became his uncle by marriage. His eldest son Walter became the 3rd Chief and Laird of Balnagown upon his death. Hugh was also granted the lands of Cullisse. He married Catherine, daughter of Paul MacTyre 'the freebooter of Strathcarron'. When Walter died in 1412 he was succeeded by his son Hugh.
Hugh, 4th Chief of the clan Ross, Laird of Balnagown and Cullisse married Lady Janet daughter of the Earl of Sutherland, granddaughter of the Earl of Orkney. Their son John became the 5th chief and laird, whilst their 3rd son, William of Little Allen founded the Shadwick branch of the Ross clan.
John, 5th chief and laird had five sons, the eldest, Alexander, became the 6th chief and laird. He married Dorothy Sutherland. The Ross clan had been in a long ongoing struggle with the neighbouring clan MacKay of Strathnaver. After one particularly nasty raid on Ross lands in around 1486, Alexander decided enough was enough, and so he raised the clan and went out looking for Angus Roy Mackay and his mob. The Rosses encountered the Mackay raiding party on the Tarbat peninsula, where they were 'fiercely attacked'. It appears that many Mackays were killed before they sought shelter in the church at Tarbat, which the Ross clan proceeded to set on fire, burning to death all inside, including Angus Roy Mackay himself. Archaeological evidence supports this legend as there is clear evidence that Tarbat church suffered major fire in the middle ages.
The internal sandstone walls and crypt have been scorched bright orange and charcoal from the roof timbers was found on the site. A very recent discovery of a strange burial at this site is thought to also be connected to this feud. Two full skeletons and six male heads have been discovered,you can read more about it here John (Iain) Riabhach Mackay avenged his father's death by invading the Ross lands with the help of clan Sutherland in 1487. This raid culminated in the very bloody and brutal Battle of Aldy Charrish which saw Alexander Ross of Balnagown and many of his kinsmen slaughtered. The clan Ross never really recovered its numbers after this defeat. Alexander's son, David became the 7th chief and laird.
David Ross the 7th Chief of the clan Ross, and Laird of Balnagown was knighted for his services to the crown of Scotland, and so was known as Sir David Ross. He is credited with building the original wings and towers of Balnagown Castle from field stone found on the estate. His first wife was Helen Keith of Inverugie, by whom he had Walter, who became his heir; William, who became 1st Laird of Invercharron and Hugh, who became 1st Laird of Archnacloich.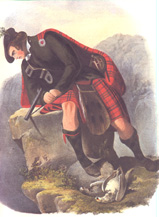 Walter, 8th Chief and Laird Ross, married Marion, daughter of Sir John Grant of Freuchie. He appears to have been slain in a clan feud in Tain in 1528. His son Alexander succeeded him. Alexander Ross was the most powerful of chieftains and is recorded as being a man of extreme violence, being utterly unscrupulous; given to raiding lands and 'forcing his clansmen to draw out agreements in his favour with total disregard for the law'. He was imprisoned in Tantallon Castle for his avowed opposition to King James VI of Scotland. Later he was released on the condition that he would live peacefully but he did not. He was a notorious raider and considered a cheater as he was given to using most modern military equipment of the day – eighteen-pound cannon and coats of mail. His own son George was even given permission to use fire and sword against him but Alexander could not be brought in. He was married twice, first to Janet Sinclair and then Catherine Mackenzie between these two women he fathered at least 11 children. George, his eldest son inherited his chieftainship and became Laird of Balnagown, he was educated at St Andrew's University, the first Ross chief to receive university education. However, he became as notorious as his father and died in 1615. Alexander's daughter, Catherine, married George Munro and become Lady Foulis, she would go on to be at the center of one of the biggest and most famous witch trials in Highland history. Our own line descends through Nicholas Ross, son of Alexander and his second wife, Catherine Mackenzie.
Nicholas was given the title 1st Laird Pitcalnie, he married Margaret Munro, daughter of Hugh Munro of Assyn. Their first son David inherited the Pitcalnie title and married Jean Dunbar. Their third son was Malcolm Ross, and our antecedence is through his line. Malcolm Ross became 1st Laird of Kindeace. He married Catherine Corbat of Little Raine. Malcolm acquired many lands around the area of the village of Nigg Culnaha and Cullisse. His eldest son William of Kindeace became burgess of Tain in 1680. In 1688 William was out walking with James, 2nd Lord Duffus, between Balnagown and the Ferry at Inverbreakie. William is said to have asked Lord Dufffus for repayment of a debt he owed him, at which Lord Duffus ran him through with his sword and killed him, he then fled to England to escape punishment for this murder. William's son David inherited his grandfather's title becoming 2nd Kindeace.
David was burgess of Tain in 1709 and of Dingwall in 1732. He was appointed chamberlain and receiver of revenues to the earldom of Ross in 1728. The estate he inherited from his grandfather was in an embarrassed state, his Uncle David of Inverchasley, Tutor of Kindeace was his guardian. In 1712 he married Griselda Forbes, the 7th daughter of Duncan Forbes of Culloden.
Their children were Duncan Forbes Ross, John Ross (born Tain 1722) plus three daughters. Duncan Forbes Ross inherited his father's title, and became Burgess of Nairn. This is the only instance of the name Duncan being used within the Ross clan, being named for his maternal grandfather, Duncan Forbes. His younger brother John Ross was thought so unimportant that his birth is recorded in the family annals but he disappears from the family's own records at this point.
There is a poignant letter from one of the Ross lairds in the mid-1700s seeking apprenticeship for his son and it speaks of how the Ross sons were sent to be clergymen, lawyers and soldiers a generation ago but now they are seeking a trade. This is heavily reflected in the Tain trade directories through the 18th and 19th centuries, the many and varied descendants of Farquhard Mac-an-T-Saigart, 1st Earl of Ross, were now silver smiths, watchmakers, blacksmith, farmers, postmen, wrights, millers… Despite the Ross clan mostly supporting the English,the rebellion of '45 still took its toll, as did the famines in the area, and there are many surviving letters of the elders and lairds rallying against the young migrating to the New Worlds. This John Ross had at least one son, John Ross, who was born at Kilmuir in 1756, land long associated with the Kindeace line of the Ross clan. Though it was around this time that the land was being sold off as the laird was deep in debt. John Ross married a distant cousin, Elizabeth Ross or Roy (the nmes are interchangeable at this time), in 1773, in Tain. He became the miller or 'mealer' of Cullisse and was previously of Culnaha. Back in 1664 Sir George Mackenzie of Tarbat had
lodged a complaint, saying that he owned a local mill with 'indoubtit right of the particular thirlage … and specialle in the lands of Pitcalnie, Culdene, Cunahall, Culnald, Pitkyllian, Nigg, Annat, Sandwick …' but Malcolm Ross and David McCulloch had built a new mill on the "commontie" 'beyond all rule of law', the new mill he was so angry about seems to have been a new mill at Cullisse, built by Malcolm Ross 1st Earl Kindeace which, 100 years later, would be milled by his great-great-grandson, John Ross. Being a miller was an extremely important roll a he was a servant of the laird responsible for taking his lord's cut of everything that went through the mill, around one bag in every eight would be left as payment. Corn, beans, oats, barley… all sorts went through the grind stones, and the mill owner, the Laird of Kindeace in this case, took his cut. Given this job was one of great trust between the miller and the laird, it made sense that it would be a post given to a trusted member of the family, so this for me underlines the connection with this John Ross, mealer of Cullisse, and the Kindeace line. John and his wife had three children, David, Duncan and William. This being our Duncan Ross born in 1781, the name Duncan isn't one found much in the Ross lines, if at all but if my conjecture on this association is correct it means he would have been named for Duncan Forbes of Culloden, a well-respected nobleman who would have been our John Ross' great-grandfather, and John Ross' uncle, Duncan Forbes Ross 3rd Kindeace.
All the books and annals I have studied speak of the difficulty in placing the lesser Rosses in later centuries in their correct lines, but I am 99% certain that my above line is correct. Dates, places and family names along with lots of processes of elimination (I have actually followed all the known lines of Ross descent and discounted them) all point to this being our line of Ross decent, though even if I am slightly out I am in no doubt at all that our line comes down through this Kindeace line.
For over three centuries the chiefship rested with the Ross's of Balnagown, until the death of the 13th Chief of the Clan, David Ross of Balnagown, in 1711. The chiefship then passed to another Ross family, and the chief became the Hon. Charles Ross, son of Lord Ross of Hawkhead in Renfrewshire. David Ross of Ross and Shandwick is the current chief.
(Please Note – My research is ongoing as I am not 100% happy with the generation connection in the 1720 era. I will update this article when I have further information)
If you have enjoyed this blog article you may enjoy one of Peggy-Dorothea Beydon's novels – Click here to explore more