This is the first in a two part set of articles on the noble origins of the Ross lineage of myself and my blood relatives of this line. It has taken many, many hours of very hard detective work to piece this line together. I have not only taken evidence from the usual ancestral sources, BMD records, census records etc but also from some very ancient Scottish annals, chronicles, land records, parish accounts and even letters to assure myself that this line, to the very best of my ability and knowledge, is correct. The key to it all was the deciphering of one word on a birth record; after a fair few weeks of intently staring at this word, written in the Nigg Church entries for 1781, and with the invaluable input of my husband, the indecipherable squiggle can now be clearly read for what it actually is 'mealer' (a Scottish term for Miller). This was confirmed by another subsequent document I discovered which showed him to still be a miller in 1787. To understand why this was such an important breakthrough, and for what it then imparted, read on.
My last article on my Ross ancestry was about William Ross, my great-great-grandfather. As you have read, he was illegitimate and his mother, Betsy Ross, left him in the care of his grandparents, John Ross and Mary (Mclean) Ross. John Ross was born in Aberdeen, although I cannot find a record of his birth, all of his census entries state emphatically that he was born in Aberdeen. His death record names his parents as Duncan Ross and Elizabeth Cameron, and I have a huge suspicion that his father, Duncan, was in the army. Given this period is at the height of the Napoleonic wars and recruitment was high among young Highlanders. I am fairly sure this is where he spent his youth, even though I cannot link any documents to him specifically there are tantalising traces that indicate this was the case.
His wife, Elizabeth Cameron seems to have been born in Nairn, although – again ­– it has been impossible to find a marriage record, but they must have been married in the opening years of the 19th century. My biggest weight of evidence for Duncan being in the army is that their first born, John, was born in Aberdeen, then there is a 7 year gap between him and his brother Duncan being born in 1813 in Nairn. We already know from Betsy Ross' story that soldiers were a regular feature of Nairn life, often garrisoned nearby, and Aberdeen was one of the central forts for the military. Indeed, it is where Betsy went when she married her soldier husband and had the first of three girls. I have a similar inkling that John may have been in the army in his youth, though yet again I have no concrete evidence.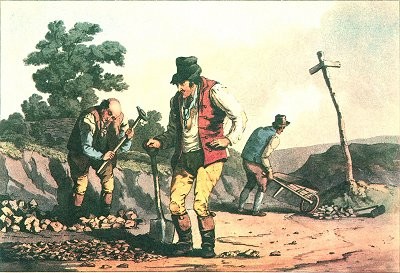 The first actual record we have of John Ross is his marriage to Mary Mclean in Nairn, on the 29th of July, 1830, when they were both 24 years old. John settles down to life as a road labourer in Nairn, and by the 1841 census he and Mary are living in the Tradespark area of Nairn, with 4 children (Betsy Ross being their 2nd child aged 6 at the time), they go on to have 5 children in all, Findlay, Betsy, William, Mary & John. By the 1861 census, William Ross, my great-great-grandfather is 1 year old and living with his grandparents at Moss side, Tradespark, Nairn. William has been abandoned by his mother who has gone off with her new husband (see previous blog). John and Mary have taken responsibility for their grandson, John is now 58 and working in the quarry. Sadly, Mary died in 1867 and shortly after young William is sent to work on a farm. On the 1871 census John is living alone in Collectors Close, just off of Nairn High Street, he is 65 and working as a road labourer again. With old age John falls into poverty, which was common for the elderly in this era. He ends his days in Collector's Close dying at 8pm on the 2nd of February 1878, he died of 'apoplexy of a few hours'. Mary Ross, his daughter witnessed the death, signing with an 'X'.
We now jump back a generation to John's father, Duncan. He was born in 1781 in a small village called Nigg, on the opposite banks of the Moray Firth to Nairn, on the peninsular of Ross and Cromarty. He was the son of John Ross and Elizabeth Ross or Roy (these two names were somewhat interchangeable in this area at this time), who were married in Tain in 1773. Duncan had at least 2 older brothers, David and William. His father, John, was the 'mealer', or miller, of Cullisse at the time, and is also noted as being formerly of Culnaha – both evidenced on Duncan's birth records (see above). Cullisse and Culnaha are small settlements in the environs of Nigg and the nearby town of Tain. This information was of great importance in tracing the family line back beyond this point. This area of Scotland is the Ross clan heartland, and every other person who lived in the area at this time was a Ross, or related to the Ross clan. The branches of the descendants of the first Earl of Ross had splintered over the centuries, into several noble lines residing in the area, and throughout the centuries marrying your Ross cousin was commonplace. It is exasperatingly hard to trace the correct line of a Ross ancestor in this area as John, William, Alexander, David, Malcolm and Robert were traditional family names to all the Ross', and it is somewhat akin to unraveling a mass of tangled wires in attempting to locate the correct father and son, especially when some of the records are almost illegible or non-existent, and rarely mention mothers in this period. I came very close to giving up on attempting to take this line any further back, but one thing gave me a chink of hope that I might be able to pick up the line, Duncan is a very rare name amongst the Ross clan, and further research showed that it only seems to feature in one particular family line of the clan.
So, Duncan Ross, my 5 times great-grandfather was born in the small village of Nigg 1781, and probably served in a highland regiment through the Napoleonic war. He married Elizabeth Cameron of Nairn in the early years of the 1800s and they had their first son, John (see above) in Aberdeen in 1806. The family were settled in Nairn by the time he had his second son, Duncan in 1813. They lived at 2, Rose Street, Nairn where Duncan is listed as a 'Flesher', or butcher, on the 1841 census, aged 62.
He and Elizabeth had at least two other children, Isobel in 1816 and Maria in 1818. John and Elizabeth can be found at the house in Rose Street right up until their deaths, Elizabeth aged about 61 in 1867, John aged 72 in 1878.
Where did the Ross clan stem from before Duncan? We know for certain his father was the mealer of Cullisse, but what were the origins of this John Ross? All will be revealed in my next blog article…
If you have enjoyed this blog article you may enjoy one of Peggy-Dorothea Beydon's novels – Click here to explore more